The Eastern Isles is a group of islands located in Eastern Aison and is one of the Seven Great Regions. The region once consisted of three large islands--Beryl Isle, Khrima and Megland--and several smaller islands to the east of the Aisonian continent until the Cataclysm made many of the islands crash together and form one big island which is now referred to as the Grand Eastern Isle. These islands contain a wealth of forestlands in rich soil. A lot of wood comes from here due to the speed at which the jungle replenishes itself.
The area is populated by not only humans but elves as well, and it was recently discovered that an ancient elven order, the Syndicate, had once resided deep in the jungle surrounding Khrima. The area has also had a hidden Itica population until 1017 AE when the Khrima portion of the great Eastern Isle sank into the ocean, which forced the Itica to find a new dwelling place. The lower part of the Grand Isle, Khrima, holds the hidden Banana City which is the capital of the secluded Monkey Land.
Locations
Edit
Settlements
Edit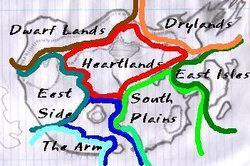 Community content is available under
CC-BY-SA
unless otherwise noted.