Dwarf Lands
Geographic Information
Type
Mountain range, Grasslands
Region
Northern Aison
Societal Information
Language(s)
Common, Dwarven
Race(s)
Dwarves
Historical Information
Age
Third Age
The Dwarf Lands are located in Northern Aison and are one of the Seven Great Regions. It consists of the Glenfiddich Range as well as the dwarven colony of Kilbannock which is located south of Remon since the Cataclysm when the landmass of the two continents collided. The area is populated and run by dwarves independently of the human lands, and the dwarves have resisted the Grey Cult's invasion attempts for over a decade.
Locations
Edit
Settlements
Edit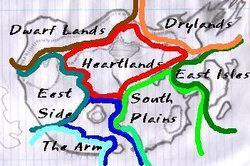 Community content is available under
CC-BY-SA
unless otherwise noted.